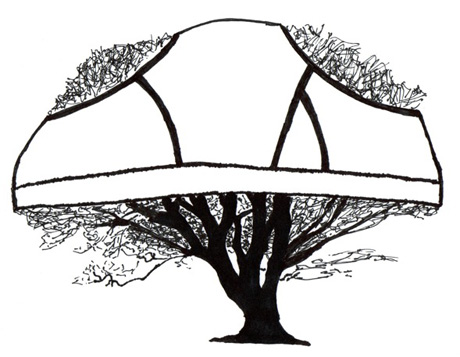 Original illustration by Paul Killebrew.
Carl Sandburg's repertoire was not limited to poetry. His children's stories are just as open to life as his lyrics. Here's the beginning of one of my favorites:
When a girl is growing up in the Rootabaga Country she learns some things to do, some things not to do.
"Never kick a slipper at the moon if it is the time for the Dancing Slipper Moon when the slim early moon looks like the toe and the heel of a dancer's foot," was the advice Mr. Wishes, the father of Peter Potato Blossom Wishes, gave to his daughter.
"Why?" she asked him.
"Because your slipper will go straight up, on and on to the moon, and fasten itself on the moon as if the moon is a foot ready for dancing," said Mr. Wishes.
Read the rest of "Never Kick A Slipper at the Moon" from Sandburg's Rootabaga Stories. For free, of course, thanks to Joseph Perry.